If you're one of the 4 million Canadians who go boating each year, you're likely to enjoy beautiful scenery and making the most of great weather, fishing or family time.
To reduce the potential risks associated with recreational activities on the water, it is important to be thoroughly prepared before boating and perform a safety check. Here are our boating safety tips to ensure your boat outing is as safe as possible.
Inspect Your Boat
Take time to make sure you are ready to boat safely before you leave. This will reduce risk when you are out on the water. More than half of all calls for coast guard help are from boaters in trouble because of motor problems, especially running out of fuel.
You must keep your boat, its outboard engine and all equipment in good working order. Use the pre-departure checklist in the end of this article to make sure you are ready before leaving.
Explain Safe Boating Rules to Everyone Onboard
Before heading out, show your guests where you keep the safety equipment and how to use it. Make sure that at least one other person on board knows how to operate the boat in case something happens to you and instruct them to wear life jackets at all times. And most importantly – get your boating license (Pleasure Craft Operator Card). Check our guide on How to Obtain Proof of Competency that answers all your questions about getting legal rights to drive the boat.
Monitor the Weather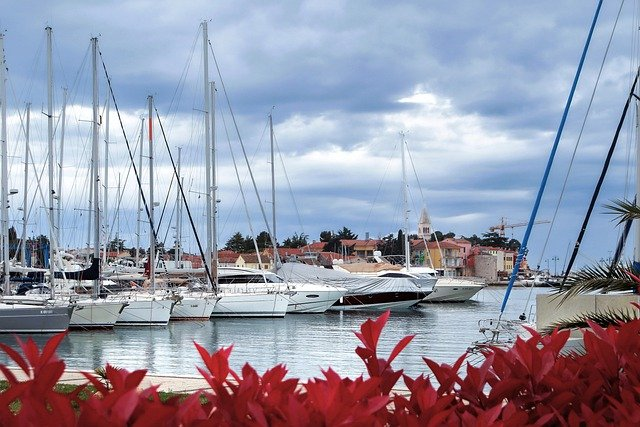 Weather and water conditions play a big role in your boating safety. Before heading out, make sure you get the latest forecast for your area and that you understand what it means.
Environment Canada issues marine forecasts several times a day. These forecasts provide information on wind speed and direction, visibility and freezing spray (if relevant). Marine forecasts are also available online. When it expects high wind speeds, Environment Canada will issue a wind warning in the forecast:
Strong Wind Warning (20 – 33 knots) (37 – 61 km/h)
Gale Warning (34 – 47 knots) (62 – 87 km/h)
Storm Warning (48 – 63 knots) (88 – 117 km/h)
Hurricane Force Wind Warning (64 knots or more) (118 km/h or more).
Check Your Safety Equipment
As with driving, there are rules for operating a watercraft that you must follow in order to stay safe. You are required by law to carry this boating safety gear:
personal flotation devices (PFDs) or life jackets of the right size for all passengers on board to wear;
a buoyant heaving line at least 15 m in length;
a watertight flashlight or Canadian approved flares – Type A, B or C;
a sound-signalling device (pleasure crafts 12 m or longer must have a fitted whistle);
a manual propelling device or an anchor with at least 15 m of rope or chain;
a bailer or manual water pump;
and a working Class 5 BC fire extinguisher;
first-aid kit.
Make and File a Sail Plan
A sail plan (also known as a trip or float plan) includes the route you plan to travel and describes your boat. You should always file one before heading out — even if it is just for an hour or two.
If you are taking a long trip, you should file a daily position report (especially if you change your planned route). File your float plan with someone you trust and tell them to contact a Rescue Coordination Centre or coast guard if you are late.
Carry and Use Official Nautical Charts and Publications
An essential part of your boating safety is having sufficient knowledge of the waterways such as:
shipping routes and boating hazards;
lights, buoys and marks;
boating conditions, such as tides, currents, ice patterns.
The Canadian Hydrographic Service (CHS) is the official source for navigational charts and publications in Canada's waters. Under the Charts and Nautical Publications Regulations made pursuant to the Canada Shipping Act, 2001, boaters must use charts issued officially or on the authority of the CHS.
Before heading out, you should know how to:
plot a course and determine your position;
use compass as well as nautical charts, electronic navigation equipment, and references such as tide tables, navigation lights and signals.
Avoid Local Hazards
Being prepared means more than having your boat in good working order. You should also:
Check nautical charts for overhead obstacles, bridges and underwater cables in your boating area.
Read nautical charts. Looking at tide tables and current atlases will also help you learn about water levels, times of low, slack and high tides, and the direction of water flow.
Stay away from swimming areas – minimise the risk of injuring swimmers.
Avoid boating too close to shore.
Fuel Safely
Leaking or spilled fuel not only harms the marine environment but presents a fire hazard and compromises your boating safety. Basic safety tips for proper fuelling include:
Moor your boat securely to prevent spills.
Shut off all engines and send passengers ashore.
Put out all open flames and don't smoke.
Turn off electrical switches and power supplies.
Do not use electrical devices such as portable radios.
Remove portable tanks from the vessel before refuelling.
Do not overfill your tank.
Wipe up spills and dispose of the used cloth or towel in an approved container.
Be sure to follow the boating safety instructions provided by fuel suppliers, as well as your boat's engine and system user manuals.
Load Your Boat Properly
Overloading your boat with people, equipment or both is dangerous. Your boat's safety on the water depends on how much you put on the boat and where you put it. Too much weight will make your boat unstable and allow small waves to come on board.
As the boat operator, follow the recommended maximum safe limits on the Transport Canada compliance notice.
Other tips include:
Evenly distribute the weight of passengers and equipment.
Properly secure equipment.
 Keep your centre of gravity as low as possible.
Our Safety Briefing
Owning and operating a boat is an enjoyable experience, both for the newcomers and seasoned boaters. To make sure you enjoy a fun time on the water, check Transport Canada's official pre-departure checklist. Planned boating = safe and fun boating!